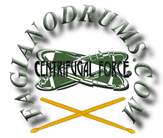 THE 15th ANNUAL HEAT STROKES DRUM CONTEST 2011
Heat Strokes Photo Gallery is here

---
The finals of the 15th Annual Heat Strokes Drum Contest were held once again at the McHenry County College. In the beautiful 250 seat conference room. With a near capacity crowd, even though there were tornado warnings & a power blackout. This year the contest was Class (A) and (B), instead of a three class contest. This years contest was also one of the best in years, as any of top seven class (A) could have pulled off a win. For only the 2nd time in 15 years we had a repeat winner. Crystal Lakes own 18 yr. old Tyler Ommen won again in Class (A) and Joe Babick was the only other winning two years in a row. Wonder Lake's 27 yr. old Paul Thompson pulled off a Class (B) win. As its your preliminary score & talent & not age that gets you in a class. Once again the intensity was high as with many new drummers this year, people were wondering how the contest worked & how they would place. More info & pictures on www.FagianoDrums.com Mr. Fagiano mentioned that you never know, the contest could end up back in Arizona, or back west for the 20th Annual. in 5 years. What a great 15 years of running a contest. These kids both young and old have learned so much & went so far. Just imagine how much I have learned watching & running a contest like this. We might even try & get all the dvd's together & put out a " The Best of Heat Strokes Drumming "
What a great contest & even greater running one.
---
Class (A) Contestants

Placement
Contestants
City
Score
1
Tyler Ommen
Crystal Lake
93.00
2
James Pinki
Crystal Lake
91.05
3
Ken Slama
Wonder Lake
90.00
4
Elliott Lupp
Mchenry
86.50
5
Lane Parsons
Crystal Lake
85.50
6
Mike Reinhold
Crystal Lake
82.00
7
Dylan Harper
Lakewood
81.00
8
Matt Spina
L.I.T.H.
76.00
9
Mike Miczak
Mchenry
72.00
10
Alec Madeya
Algonquin
66.00


Class (B) Contestants


Placement
Contestants
City
Score
1
Paul Thompson
Wonder Lake
54.50
2
Zack Perron
Harvard
51.50
3
Joe Cangelosi
Mchenry
50.50
4
Cody Bauman
Marengo
47.50
5
Harsh Agawal
L.I.T.H.
44.50
6
Tate Davis
Crystal Lake
42.00
7
Colleen Bransley
Crystal Lake
41.00
Honorable Mention
8
Nick Skleba
Cary IL.
9
Ryan Szpak
Huntley IL.
10
Marielle Prihoda
C.L. IL.
Judges: John Williamson, Danny Villarreal.
Tabulator & Timer. Edward Roberts
Photographers.
Jeff Williams Royal Airs
Brook Mrvicka
( www.crystallakepatch.com )
Volunteers.
Cynthia Harper
Dennis Kranz
Patyy Smith
Ed Violet
Don Sonne
Master of Ceremonies
Robert Madeya
Special Thanks to Doctor Thomas Takayama and
MCC & a cast of Volunteers to many to mention.