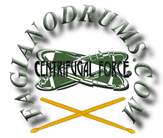 THE 11th ANNUAL
HEAT STROKES DRUM CONTEST 2007

---
Thanks to all for a Great 11th Annual Drum Contest. Also a big
congratulations to the contestants on a fabulous job. Again no
matter what your score or placing, its about the hard work and all
the effort you put into your performance. Never give up your dreams
and always keep up the good work. Steve Fagiano

---
Final Scores for the 11th Annual
Heat Strokes Drum Contest
Saturday June 23rd, 2007
McHenry County College



Beginners

Joe Hanley
43.30
Brendon Urban
42.00
Anthony Freidi
41.00
Hawkan Stephen
38.00
Danny Cardiff
37.00

Honorable Mention - Morgan Kallay,
Blake Depaul, Frankie Buono, Ajun Tambe, Kelly Dobbs


Intermediate


Steven Zokal
60.30
John Jaworski
56.00
Dean Boyter
53.00
Aaron Shepley
48.00
Dean Sinclair
45.30

Honorable Mention - Candace Berhke, Greg Guezlo, Dylan Harper, Tim Ford, Bob Field


Advanced


Paul Wandtke
91.70
Mike Summaria
87.30
Ezel Jones Jr.
87.00
Paul Shallcross
77.00
Michael Perski
70.70
Andy Meadie
67.30 (Tie)
Tyler Ommen
67.30 (Tie)

HONORABLE MENTION: Jeff Schwertfeger, Aaron Krause, Ashley Rocker, Ryan Moore
Special Thanks to Judges:
John Williamson, Daniel Villarreal, and Don Dumper.
Tabulator Edward Roberts. Timer George Drish.
Asst. Director Cynthia Harper, Staff Dennis Krantz,
John Zokal, Nick Damicio, MC Jake Lizzio and Mike Tipp
---
THANK YOU TO OUR SPONSORS
( NOTE: In no particular order)
EVANS DRUM HEADS
H.Q. Percussion
YAMAHA DRUMS
Paiste America
USMC ALUMNI WASH. D.C.
Gibraltar Hardware
GRETSCH DRUMS
Toca Percussion
LATIN PERCUSSION
Alfred Music Publications
ZILDJIAN CYMBALS
Guitar Center
SABIAN CYMBALS
Piano Trends Music
PRO-MARK
Humes & Berg Mfg.
VIC-FIRTH
PercussionMusic.com
MODERN DRUMMER
AniMusic.com
DRUM !
Tyler Press Huntley IL.
PERCUSSIVE ARTS SOCIETY
Centrifugal Force Drum School
4SALEEXPRESS.COM
Players Bench Music.
THANKS TO ALL
From all the kids, Parents, Contestants
and The City of Crystal Lake IL.
The McHenry County College
& Dr, Thomas Takayama.
Education is a must!
Sincerely
Steve Fagiano
Founder & Director!

---