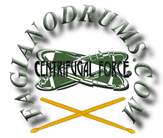 Saturday June 12th. Crystal Lake, Illinois
The 8th Annual Heat Strokes Drum Contest.
Heat Strokes 2004 Picture Gallery is here!

The finals of the eighth annual Heat Strokes Drum Contest was held on Saturday June 12,
at the Holiday Inn, Crystal Lake Illinois. The contest, organized by Steve Fagiano/
Centrifugal Force Drum School, offers beginner, intermediate, and advanced categories,
with the focus being on education.

At 11:00 A.M. master of ceremonies Connell Griffin and Mike Ghilardi of the Chicago
Royal-Airs announced "Drummers...let it roll," to open the beginner competition.
Beginners played a combination of exercises, with a touch of there own rather than a solo,
owing to their lack of soloing experience. They all played with confidence and control.
Eleven year old Kyle Nicholas of Crystal Lake, Illinois walked away with top honors
in his class. Playing back sticking around the set and getting the crowd up on their feet.
Followed in second by eight year old Andrew Brown of Algonquin, Illinois who in his
first drum contest placed ahead of eight other drummers from twelve to fifteen years
old. The intermediate category was taken by fifteen year old James Allen of Cary, Illinois.
Playing fusion, jazz, funk with much poise and control. And again in our intermediate class,
James scored higher than a many in the advanced category. Next came the rudimental part
of the contest. Being won by sixteen year old David Oreinte of Orland Park, Illinois
illustrating what technique and control can do for your hands and playing ability.
In the advanced drum set category twenty six year old Ken Schultz of Genoa, Wisconsin.
took the stage and placed fourth. This drummer rocked the crowd from start to finish with
an excellent solo, but with the competition hot and heavy. Ken slipped from second place
in the prelims, to fourth place in the finals, with nineteen year old Matt Camp of Lake in
the Hills, Illinois holding on to third place. Moving up from fifth place to second place was
twenty six year old Daniel Villarreal of Wonder Lake Illinois Playing many variations of
latin and funk, entertaining the crowd with the confidence of Alex Acuna, this drummer
will be back next year, no doubt. This years advanced winner twenty two year old Joe
Babiak of Chicago, Illinois Came back from last years second place finish, with a
vengeance and won by over five points, playing very intricate parts with control and
new cymbal work pleasing the crowd and judges alike for the second year in a row.
Demonstrating again that knowledge of rudiments and how to apply them is the key in
drumset playing. Special thanks to our judging staff, Edward Roberts, John Williamson,
Richard Geis, Eric Newhuis, and Ray Mietus, Jeff Williams and a staff of many.

Advance Drumset Category:


1st. Joe Babiak

91.33

Chicago, IL

2nd. Daniel Villarrea

80.66

Wonder Lk.

3rd. Matt Camp

80.33

L.I.T.H. IL

4th. Ken Schultz

77.00

Genoa Wis.

5th. Jason Blazer

75.33

(C.L.) IL.

Six thru Ten, Honorable Mention.
Casey Lanken 39, Mike Summaria 16,
David Oriente 16, Bryan Vanhorst 27,
Steve Schertz 26.

Intermediate Drumset Category:


1st. James Allen

82.33

Cary IL.

2nd. Ryan Fosnow

78.00

McHenry

3rd. Ross Farbe

74.66

Cary IL.

4th. Ashley Forti

71.00

(C.L.) IL.

5th. Chris Weiland

68.33

Woodstock

Six thru Ten, Honorable Mention.
Dan DeAvilla 14, Jon Jones 15.
R.J. Zasada 14, Nathaniel Lanken 14,
Robert Cassaretto 46.

Rudimental Snare Drum Category:


1st. David Oriente

86.33

Orland Pk. IL

2nd. Chris Gross

82.00

C. L. IL.

3rd. Matt Camp

80.33

Algonquin IL
Beginner Drumset Category:


1st. Kyle Nicholas

78.66

(C.L.)

2nd. Andrew Brown

73.33

Algonquin IL.

3rd. Cam Heckman

71.33

Lakewood

4th. Katharine Shadle

70.66

Marengo IL.

5th. Kenny Salvi

70.33

(C.L.)

Six thru Ten, Honorable Mention.
Candece Buhrke 13, Devon Collins 12,
Taylor Servant 12, Egan Nabb 11,
Courtney Douglas 14.

Thanks to John Zokal, Lori Nicholas,
Qwen Salvi, Ronnie Keel, Jeannie Morris, Terry Weiland, David Learn,
The entire staff at Piano Trends Music, Players Bench Music, Hot Rod
Music, The Drum Pad, and many, many more.

Sincerely.
Steve Fagiano
Founder and Director.
and The Entire Staff.

The Sponsors

EVANS DRUM HEADS
YAMAHA DRUMS
MODERN DRUMMER
ZILDJIAN CYMBALS
PAISTE AMERICA
THE DRUM PAD
GIBRALTAR HARDWARE
TOCA PERCUSSION
GRETSCH DRUMS
LATIN PERCUSSION
PERCUSSIVE ARTS SOCIETY
PRO-MARK CORP.
HUMES AND BERG
WARNER BROS. PUBLICATIONS
PLAYERS BENCH
CHICAGO ROYAL AIRS
DRUM CORPS WORLD
U.S.M.C. COMMANDANTS OWN
DRUM AND BUGLE CORPS ALUMNI
PIANO TRENDS MUSIC
PERCUSSIONMUSIC.COM
4SALEEXPRESS.COM

Steve Fagiano
Founder & Director
www.FagianoDrums.com
Heat Strokes 2004 Picture Gallery is here!

Site design by 4saleexpress.com