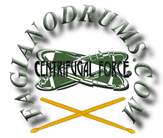 Saturday June 14th. Oswego, Illinois
The 7th Annual Heat Strokes Drum Contest.
(Heat Strokes 2003 Picture Gallery Is Here!)

For the first time, the Annual Heat Strokes Drum Contest, for Drum Set
and Rudimental Drumming, was held in the Chicago, Illinois area. The
prior six were held in Arizona, and rotated respectively from Scottsdale
to Mesa, from Phoenix to Tempe & East Tempe. We've had over 400
different contestants in that time, with ages ranging from 10 to 58 years
young, and a Beginners-Intermediate-and Advanced format. And
EDUCATION is the top priority. The curiosity & intensity was high,
everyone wondering how the contest worked and how it would turn out.
The day dawned in typical Heat Strokes fashion -- sunny and a beautiful
78 degrees. We were under a big tent while the Prairie Fest crowd
watched the activity and formed around the performing Drummers.

Starting at 11:30 am sharp, the Beginners took center stage. By the flip of
the coin, 14 yr. old Tyler Schultz went on first. As the Master of Ceremonies,
Mr. Jeff Helgeson (Roosevelt University) announced: "Drummers! Start
Your Engines!" The Beginners started. They usually play a combination of
exercises rather than a solo, because with little to no solo experience, why
put yourself under undue pressure? The Beginners are encouraged to play
clean and confident. And did so.



Beginner Scores:


1st. Kyle Tarpinian

16

58.70

2nd. Ashley Fonti

16

57.75

3rd. Jon Jones

14

51.00

Tie for 4th:
Tyler Schultz

14

49.00

Robert Cassaretto

46

49.00

6th. Larry Eddy

12

48.50

Now the crowd was getting the idea of Education and Competition. Sixteen
year old Ashley Fonti, of Crystal Lake, IL, with 7 months experience,
played David Garibaldi's Permutation 1 & 2, with Reggae feels, and a bit
of J. Bonham. It was put together smoothly and with confidence. And 1st
Place Mr. Kyle Tarpinian, McHenry, IL, 16 years old, gave a very fine
performance with a little over a year experience. The Intermediate Class
was taken easily by Mike Summaria, Algonquin, IL, 14 years old. Playing
with all the class of our Advanced Drummers, Mike would have beat some
of our Advanced guys (by score) if he wasn't in our Intermediate Class.
Jazz, Funk and Fusion -- this little guy has a bright future.


Intermediate Scores:


1st. Mike Summaria

14

76.50

2nd. Andrew Butler

14

70.00

3rd. Kurt Deutinger

17

69.75

4th.
5th. Eric Small

15

68.50

6th. Buddy Jett

16

67.00
All the kids did agreat job and should be very proud.
We hope they will be drummers who will compete in the 2004 contest!


The Rudimental Division:

1st. Ray Mietus

23

Chicago Royal-Airs

2nd. John Ohla

32

Racine Kilties

3rd. Josh Wilson

17

Plano Illinois

4th Chris Gross

23

Crystal Lake IL.

In the Advanced Drum Set Class, Anthony Capers took charge of the drum
set with funk and grooves that hadn't been seen since Buddy Miles. Anthony
really put the sticks to the head and entertained throughout his solo. Joe
Babiak, by luck of position, had to go on as one of the first competitors in
the Advanced class. Playing heavy fusion and very intricate parts, Joe
pleased the crowd throughout his performance, losing by only 7.5 tenths
of a point. Ray Mietus, of Warrenville, IL, played with Style, Technique
and Energy. This 23 year old Drum Corps snare drummer showed that
knowledge of rudiments and knowing just how to use them is the key.
Job well done, Ray.


Advanced Scores:

1st. Ray Mietus

23

95.50

2nd. Joe Babiak

21

94.75

3rd. Anthony Capers

21

92.50

4th. John Olah

32

91.75

5th. Mike Flack

48

81.00

6th. Bryan Venhorst

26

75.70

7th. Brendan O'Donnell

19

72.00

8th. Dan Stickney

29

69.75

Special Thanks to Judges Richard Geis, of Roseville, Minnesota, and John Williamson, Lake in
the Hills, IL., Tabulator Ed Roberts of Schiller Park, IL,Staff Kathleen Roberge, Dave Rizzo,
Chuck Fagiano, Scott Nickels, Jeff Helgeson. And a very Special Thanks to our Sponsors:

YAMAHA DRUMS
EVANS DRUM HEADS
MODERN DRUMMER
GIBRALTAR HARDWARE
TOCA PERCUSSION
ZILDJIAN CYMBALS
PERCUSSIVE ARTS SOCIETY
THE DRUM PAD
WARNER BROS. PUBLICATIONS
PAISTE AMERICA
PRO-MARK CORP.
PERCUSSIONMUSIC.COM
CHICAGO ROYAL AIRS
OSWEGO VISITORS BUREAU
OSWEGO PARK DISTRICT
DRUM CORPS WORLD
U.S.M.C. D&B ALUMNI D.C.
4SALEEXPRESS.COM


Steve Fagiano
Founder & Director
www.FagianoDrums.com

Heat Strokes 2003 Picture Gallery Is Here!



Site design by 4saleexpress.com